Holiday Club
Fun, Safe & Educational
May Holiday Club 2019
Looking for something to occupy the kids with during the school holidays? Our holiday clubs offer plenty of exciting kids activities to keep your children entertained throughout the school breaks, including mountain boarding, raft building, wildlife walks, climbing, high ropes, nerf battles and arts/crafts. We are proudly OFSTED registered and can accept childcare vouchers.
Great Holiday Childcare in North Devon
Make New Friends. Get a Break From The Screens!
8am to 6pm
Our Holiday Clubs run from 8am in the morning to 6pm at night, that's 10 hours of childcare! At just £30pp per day, that offers quite incredible value – just £3 per hour.
Where would you get childcare like that, and the best day out, anywhere else?!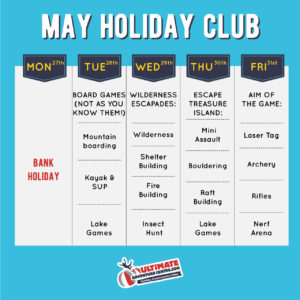 10% Off For Three Days
Our Holiday Clubs run throughout the school holidays and many of our parents choose to book their children in for several days in a given week. To help make that easier, we offer a 10% discount to anyone wishing to do so.
That puts the cost at just £27pp per day.
ready to get started?
It's easy and quick!
Hit the button below to start your awesome adventure with the UAC!
what our visitors think
See Why We're a 5* Attraction on TripAdvisor!
"The best School Trip ever!"
"Wanted to say a massive 'Thank you' to all the staff at The Ultimate Adventure Centre for a great week. The group of thirteen year olds, were kept busy from 8am till 10pm. They loved staying in the lodges and thought the bunk beds were cool. Many parents commented that their children had not stopped talking about the trip since they have been back. I cannot recommend them highly enough. We have already booked for next year. Outdoor Education at it's best!"
Fantastic 7th Birthday Party
"We held our son's 7th Birthday Party at Ultimate Adventure and it was fantastic. He wanted a 007 Spy Training School Birthday Party and Ultimate Adventure was the perfect venue. The Instructors were amazing and encouraged everyone through the four activities. I would definitely recommend Ultimate Adventure to anyone. The party was fantastic and great value for money. A party that all the boys will never forget - thank you."
Best 2 hours of the holiday!
"Our kids loved the ultimate assault course - they say it was the best 2 hours of their holiday! Great facilities, friendly staff, plenty of time to do the course lots of times, until they eventually ran out of energy! Recommended for kids and adults to have lots of fun in a very safe environment."
Epic Day Out
"Fantastic adrenaline fuelled day out, myself my partner and two children ten and fifteen had an amazing day. Fantastic facilities and fantastic staff..... very well organised brilliant day out for the family"
Awesome 4 some
"Had a fantastic afternoon climbing the walls including the leap of faith and the high ropes. Sam our instructor was very knowledgeable and great with the kids. The staff were very friendly and helpful. Definitely worth a visit as there's loads of other activities to do."
13th Birthday Fun
"Just returned from a jam packed 2 night stay in the lodges for a 13th birthday party. All the girls had an amazing time on the high ropes, surfing and on the wipe out course too. Both days where finished of with a barbecue and roasting marsh mellows on a fire pit. Great half term fun!"
Awesome Stag Do Weekend
"An absolutely top weekend. Russ and the team lead some fantastic activities and knew exactly how to tune in and adapt the activities for the needs of our group. The accommodation was comfortable and the breakfast was mega! The use of the fire pit and BBQ was a nice touch and made it quite a special weekend. Well worth it. "
Great Party
"Great party for 10th birthday party, staff were great giving loads of encouragement! The kids loved the new high ropes, climbing walls & leap of faith - it really was the awesome foursome!"
Fantastic Holiday Club
"My daughter has been to the holiday club on 3 occasions and she has absolutely loved it. She now wants to go all of the summer holidays. Thank you to everyone at Ultimate Adventure for making my daughter's holidays a fun and exciting time. See you again soon"
Group Weekend
"The site was clean, quiet and had exceptionally clean facilities! If you're looking to hold a group event or just want an exhilarating family weekend then I'd highly recommend this site and its activities! "
Ready to book your places?
Our Holiday Club is an awesome way to get the kids looked after in a safe, educational, fun place!
Book your places online: